When it comes to your wedding day, finding the perfect suit is paramount, as it not only complements your style but also accentuates your confidence as you embark on a new chapter of your life. With meticulous attention to detail and a commitment to exceptional quality, Thomas Pina presents a curated selection of wedding suits that embody sophistication, modernity, and impeccable tailoring. From classic tuxedos to contemporary ensembles, this collection showcases the epitome of style for grooms who seek nothing but the best on their special day. Let us explore the world of Thomas Pina's top 5 wedding suits and discover the epitome of sartorial excellence for your wedding day.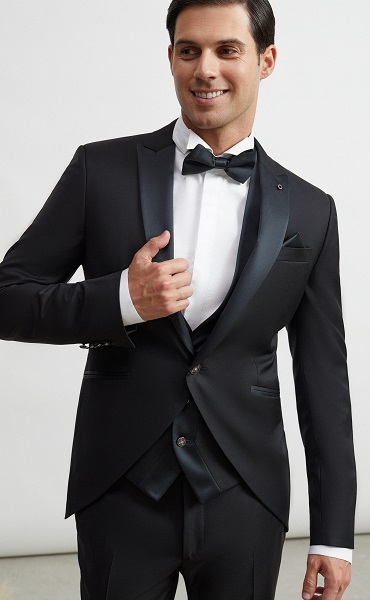 The Classic Black Tuxedo
Thomas Pina's classic black tuxedo is a timeless choice that never fails to make a statement. Meticulously tailored with attention to every detail, this suit exudes sophistication and elegance. The sleek lines, satin lapels, and perfectly fitted silhouette create a refined and polished look for the groom. Thomas Pinaĺs black tuxedo is the epitome of traditional formalwear, ensuring that the groom stands out with confidence and style on his wedding day.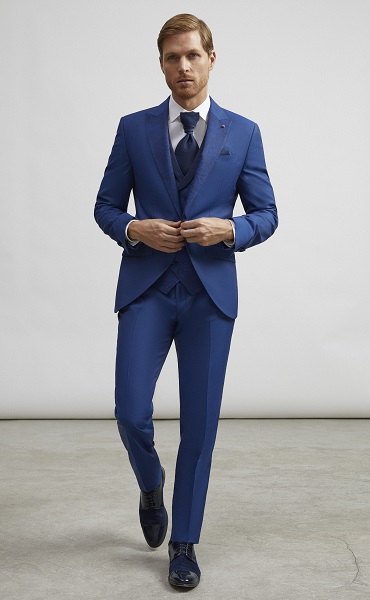 Navy Blue Modernity
For grooms seeking a modern twist, Thomas Pina's navy blue wedding suit offers a perfect blend of contemporary style and sophistication. With its slim-cut design and rich navy hue, this suit exudes confidence and charisma. The impeccable tailoring and high-quality fabric result in a sleek and flattering fit. Whether it's a three-piece suit or a two-button jacket paired with tailored trousers, the navy blue wedding suit from Thomas Pina is a modern classic that leaves a lasting impression.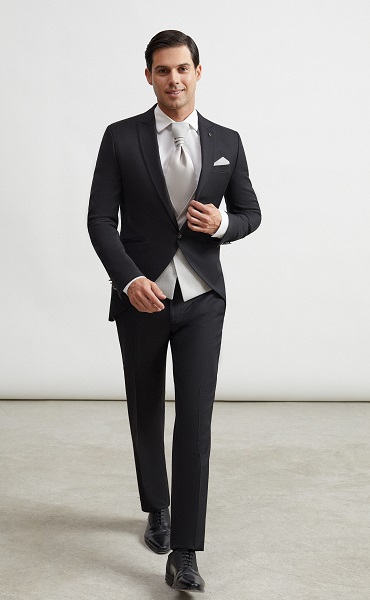 Subtle Charcoal Sophistication
Thomas Pina's charcoal wedding suit is the epitome of understated sophistication. The subtle charcoal hue adds depth and versatility to the suit, making it suitable for a range of wedding styles. The tailored fit and clean lines create a sleek and refined look, while the fine details, such as a contrasting pocket square or a textured tie, add a touch of personality. The charcoal wedding suit from Thomas Pina is an excellent choice for grooms who appreciate a sophisticated and polished aesthetic.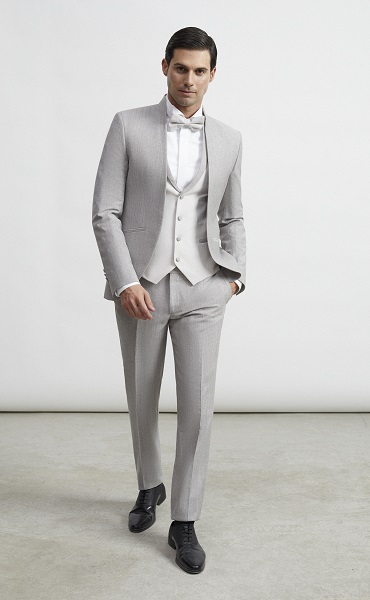 Modern Grey with Texture
If you're looking to add a touch of texture to your wedding ensemble, Thomas Pina's modern greysuit is the perfect choice. Crafted from luxurious fabric with a subtle textured pattern, this suit offers a contemporary and stylish twist. The slim-fit design accentuates the groom's physique, while the versatile grey colour allows for endless styling options. Whether paired with a crisp white shirt or a patterned tie, the modern grey suit from Thomas Pina ensures a fashion-forward look that showcases the groom's individuality.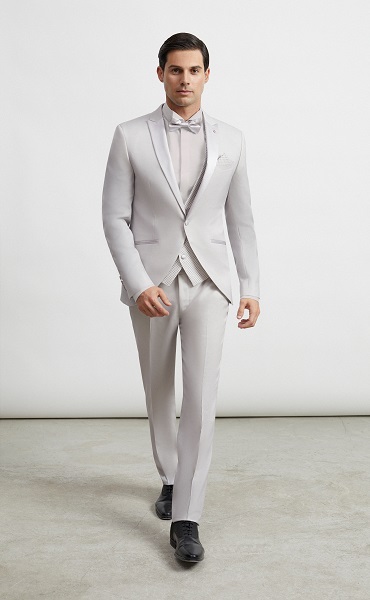 Timeless Ivory Elegance
For grooms seeking a departure from traditional black or navy, Thomas Pina's ivory wedding suit is a stunning option. Exuding timeless elegance, this suit features a soft ivory hue that is perfect for a classic and romantic wedding. The tailored fit, peak lapels, and fine detailing create a look of utmost refinement. Whether worn with a matching vest or paired with a contrasting bow tie, the ivory wedding suit from Thomas Pina is a sophisticated choice that adds a touch of old-world charm to the groom's attire.