Although it is an unusual season for weddings, winter brings a special touch to the world of men's fashion and allows you to wear elegant wedding looks, rich in details and charismatic at the same time. In the following post, discover our 5 favourite suits for a winter wedding and choose the one that best reflects your true personality. What about you, are you a winter groom?
If you are looking for the perfect wedding suit for a winter wedding, you are in luck. The brand Thomas Pina includes in its new 2023 collection multiple ideal proposals for the coldest months of the year, by structure, its fabric and its tonality. In winter, looking for a wedding suit according to the low temperatures will not be a difficult task, because the fear of getting hot with your wedding suit disappears completely. As the daylight hours decrease, it will be ideal to go for dark colours, which are perfect for their elegance and their extra touch of formality.
At this time of the year, the richness of fabrics takes over, as well as the slim fit, which enhances the male silhouette. Textured blazers, satin lapels and contrasting fabrics prevail, to give volume and opulence to the look. Similarly, small luxurious details are on trend, adding a glamorous and exclusive touch to the wedding outfit.
We have selected five different proposals for you, which bring together some of the most acclaimed trends this season. A variety of colours and designs, so you can find your ideal look. Take note!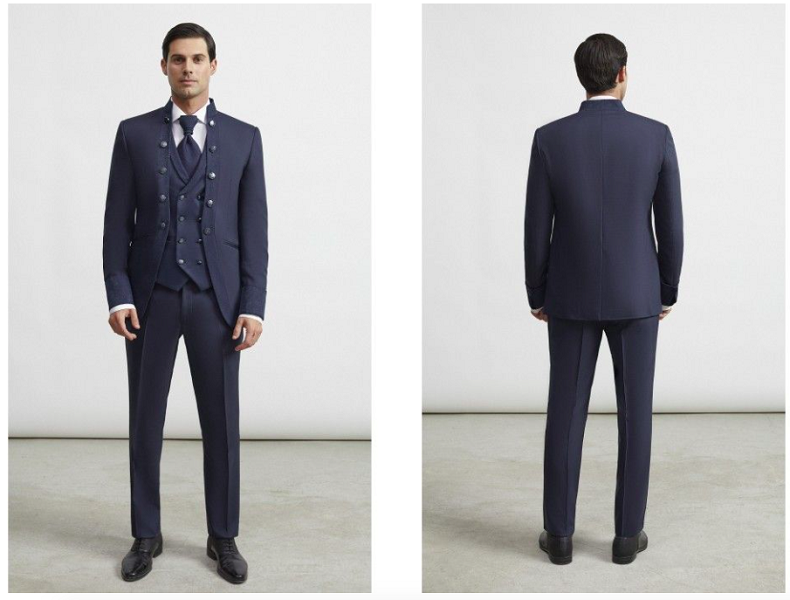 Its mao collar jacket, its intense blue colour and its Italian wool fabric with micro design, make this suit an ideal choice if you are looking for an alternative groom look. Its slim fit pattern is reinforced by a small touch of elastane included in its composition, which will offer you extra comfort and freedom of movement. The blazer contrasts with a double-breasted waistcoat and a tie in the same tone. An elegant, original and distinguished ensemble.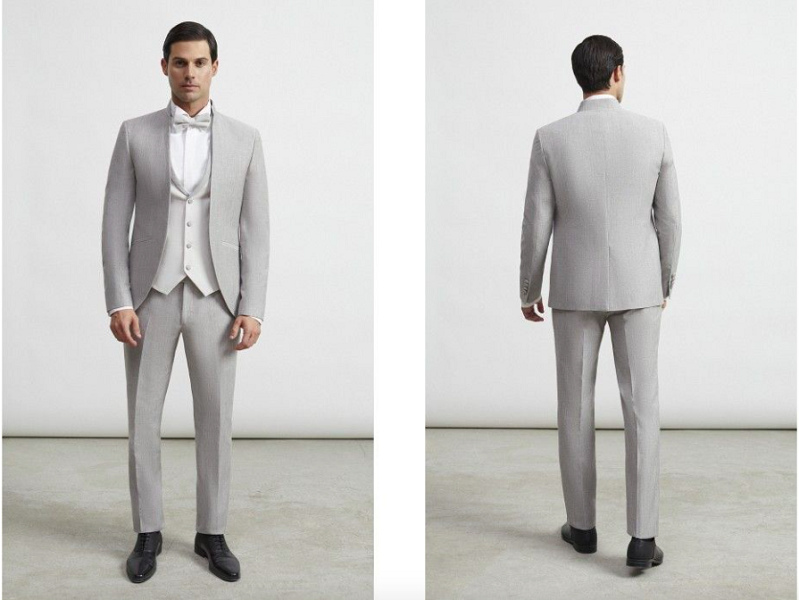 For the more adventurous who want to wear a lighter colour in winter, we love this plain beige groom's suit in wool and cotton fabric. Its mao collar jacket without buttons contrasts with a four-button waistcoat and bow tie. A classic, elegant outfit with a very special touch.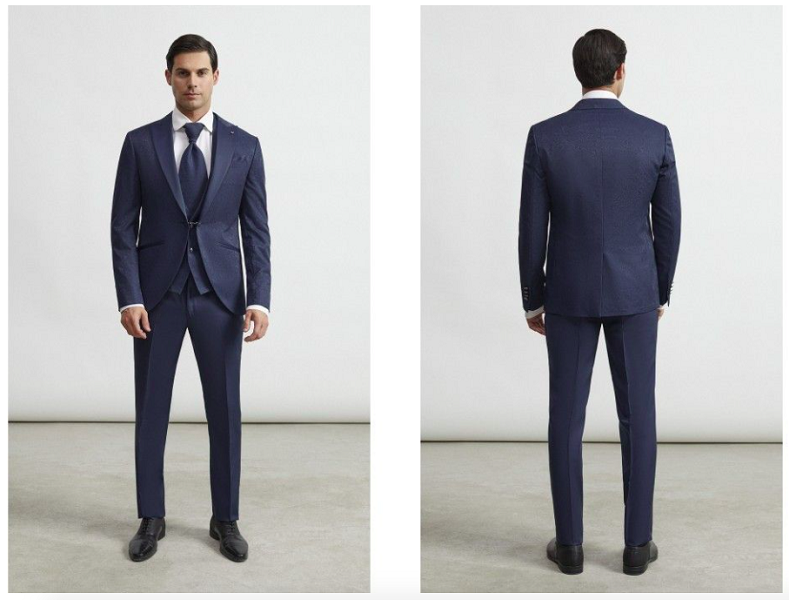 Formality, elegance and an original touch. So is this navy blue brocade groom suit, handmade with high quality Italian fabric. Itsjacket with peak lapel with one button is contrasted with a two-button waistcoat, tie and handkerchief. Discretion and originality in perfect balance.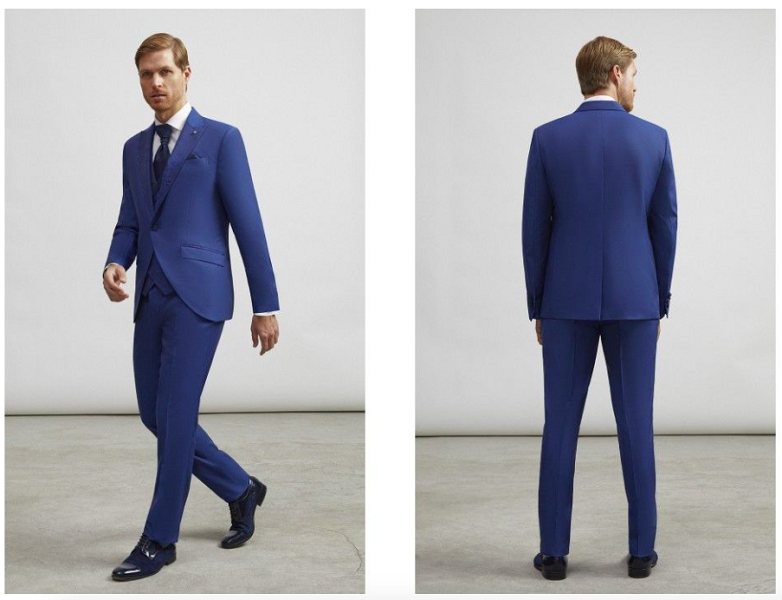 We love the vibrant blue colour of this groom's suit. Made from wool and polyester, it consists of a jacket with a single button peak lapel, contrasted with a double breasted and turned waistcoat with 4x4 buttons, tie and handkerchief.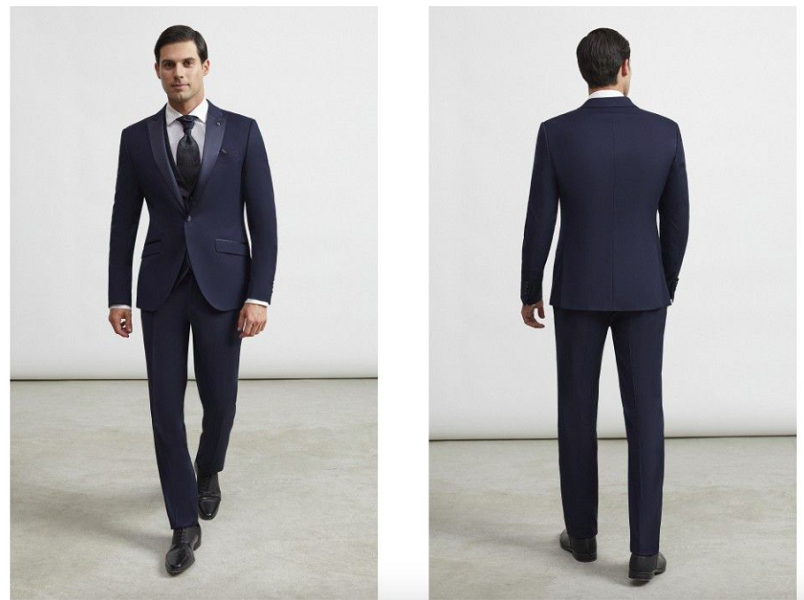 We close our top 5 with this dark blue groom's suit made of viscose and spandex fabric. His jacket with peak lapel with one button, contrasts with a four-button waistcoat, tie and handkerchief. Its impeccable waist, satin lapel and slim fit pattern, give it a sober and distinguished air, perfect for formal ceremonies and evening weddings.
Unique proposals that you can enhance by adding your personal touch, through accessories such as a coat, a scarf or leather gloves. Ready to give a hibernal, chic and distinguished air to your wedding outfit?