Are you looking for your groom's suit? Thomas Pina makes it easy for you to find the coolest shops in your city. Browsing through the website you can discover all the points of sale that include their collections, putting at your disposal all the fashion and experience that this Italian-inspired brand offers you: dressing with elegance and sophistication. Because no one is indifferent to a well-dressed man.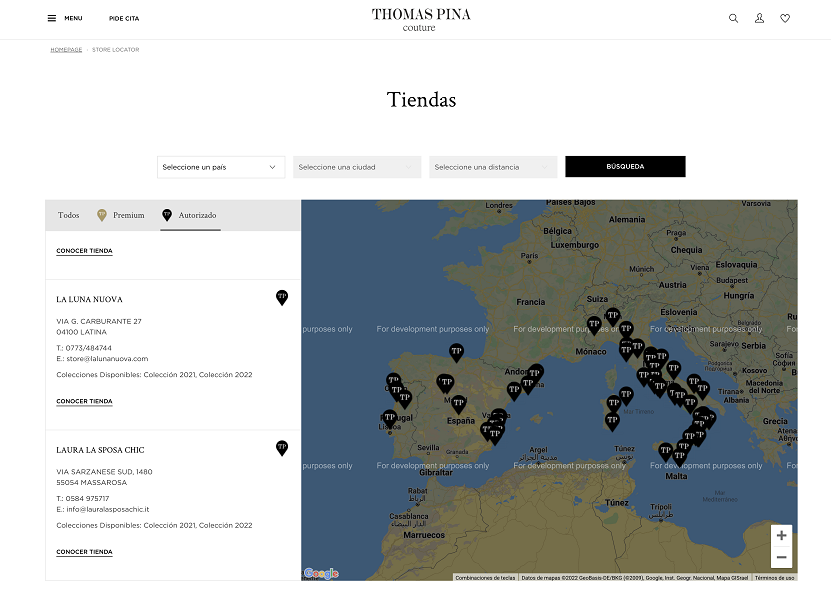 The shopping experience is an essential aspect when choosing your wedding suit. The variety, the personalized attention, the location, the atmosphere, the versatility of the product and the accessories, are aspects that, as a man, you certainly value. Thomas Pina is clear about this and so its philosophy is to take care of every detail, from your first contact with online collections, to your visit to the shop you choose to buy your favorite suit.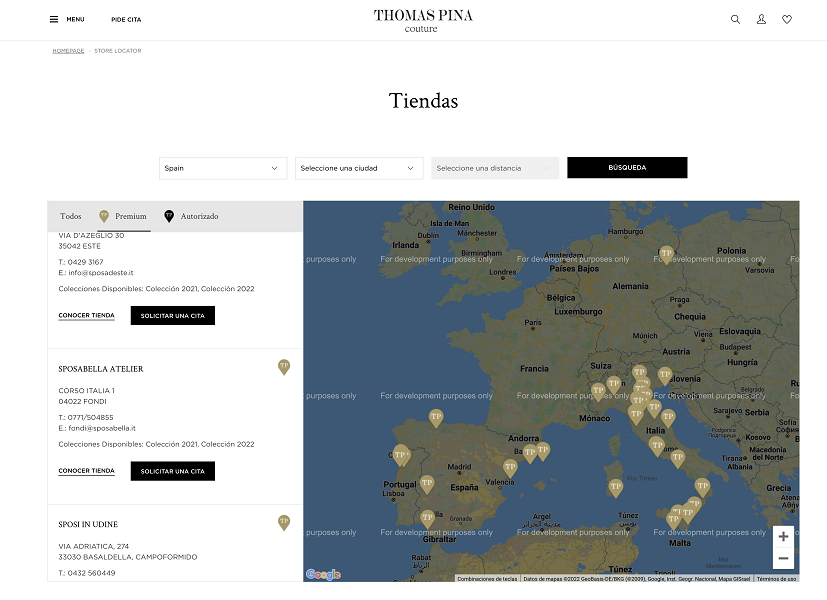 To facilitate your search, the brand has included a Store Locator on its website, exclusively dedicated to the selection, classification and location of its points of sale throughout Europe, so you can find the most suitable shops for you. Thomas Pina has a total of 96 points of sale all over Europe, specifically in Germany, Italy, Portugal and Spain, from which 37 are considered Premium shops. In these shops you can find a large representation of the brand, to choose with greater variety your ideal wedding suit.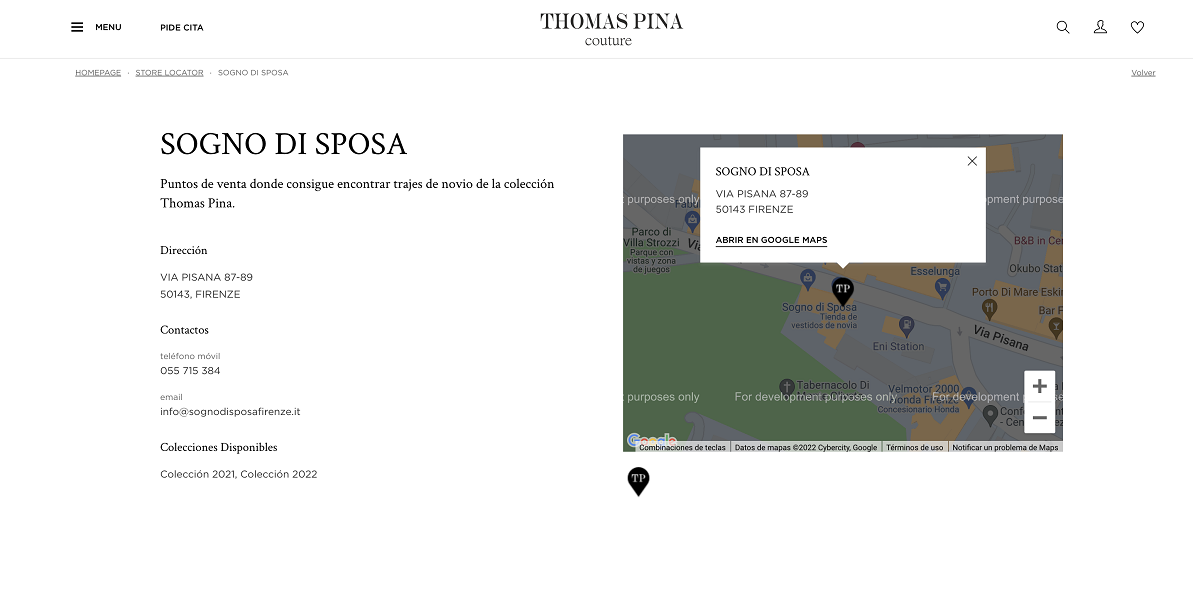 Buying your wedding suit is a unique experience that you certainly want to prepare in advance and share with some people that are important to you. The Store Locator tool offers you several useful features to help you plan your visit, such as its efficient filter that allows you to search by city and find the nearest shops within a radius of 5, 10, 50 or 100 km.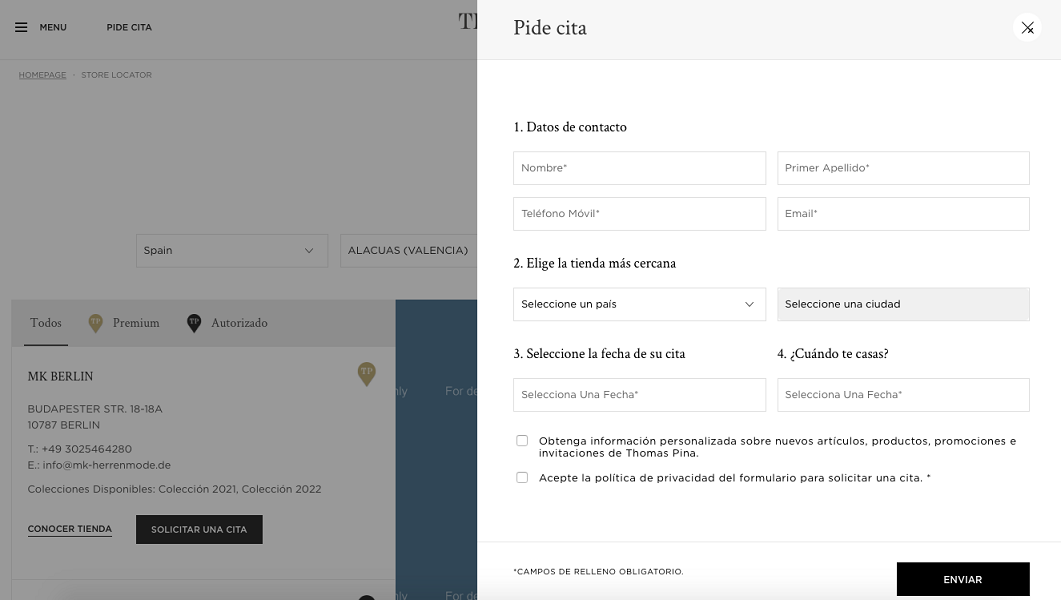 Once you have found and chosen the shop you wish to visit, you will find all their contact details and location on Google Maps, as well as details of the Thomas Pina collections currently available. If you are a forward-thinking groom, you can even contact the shop before your visit to familiarize yourself with them and explain your questions and concerns. In addition, the website offers you a form to contact the shop in a simple and direct way and you can even book your visit online.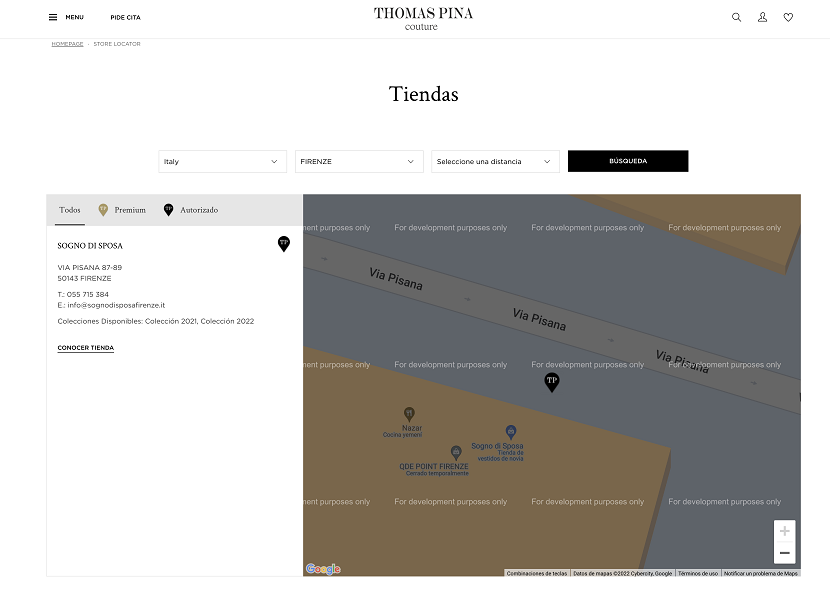 Global vision, innovation and experience are some of the main values of this brand, which ensures a perfect integration into your lifestyle and gives you easy access to fashion and quality. Therefore, if you are looking for the perfect shop to buy your groom's suit, do not hesitate to take advantage of the facilities that Thomas Pina offers you. Wedding preparations are not an easy task, so any help is welcome. Take control of the situation and enjoy!