On your wedding day, you will wear what will undoubtedly be the most special and inspiring outfit of your life. An outfit that evokes love, happiness and above all your most authentic personality. Looking for inspiration to find the perfect groom's suit to match the circumstances? This post is for you. Discover our top 5 and get ready to shine.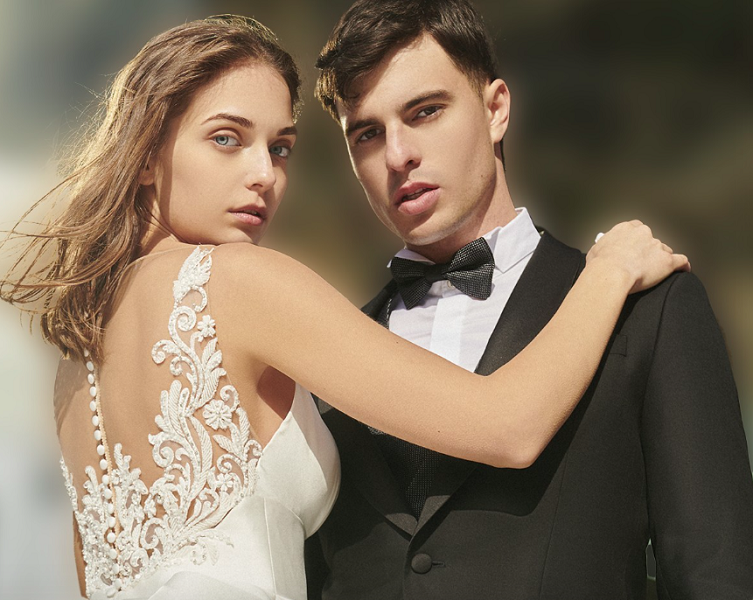 You will choose it for its colour, maybe for its pattern or maybe for its unique and exquisite details. What we know for sure is that your wedding suit will have that special something that only the outfits of the great moments have. If you are immersed in the search for the ideal wedding suit, you will know that the choice is not an easy task because it is led by something that transcends the purely aesthetic and is more related to the emotional level. With Thomas Pina's 2023 collection, we give you the inspiration you are looking for through 5 different outfits, but with something important in common: their exclusivity.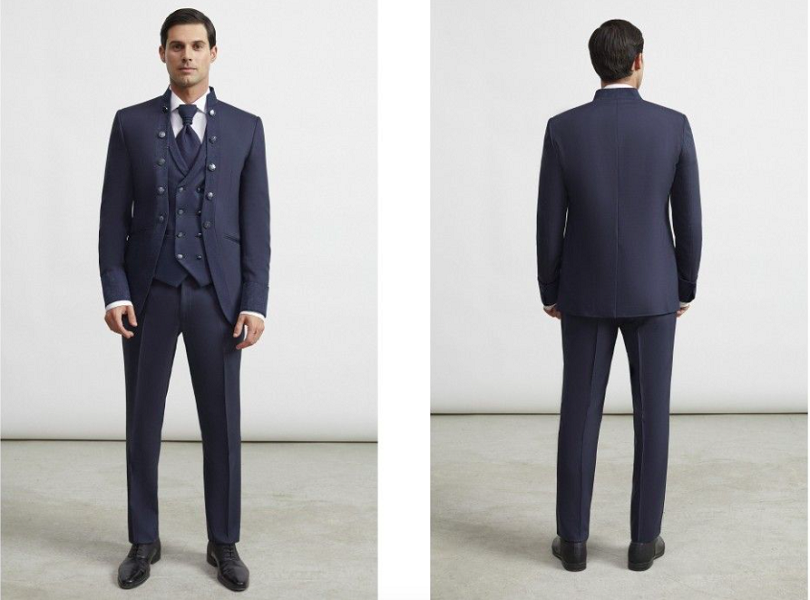 Classicism and innovation come together in this navy blue groom's suit with a micro design, made of wool, polyester and elastane fabric. Its buttonless mao collar jacket is contrasted with a double-breasted waistcoat with a knitted back, 4x4 buttons and a tie. A classic with an innovative and elegant touch that breaks with the established.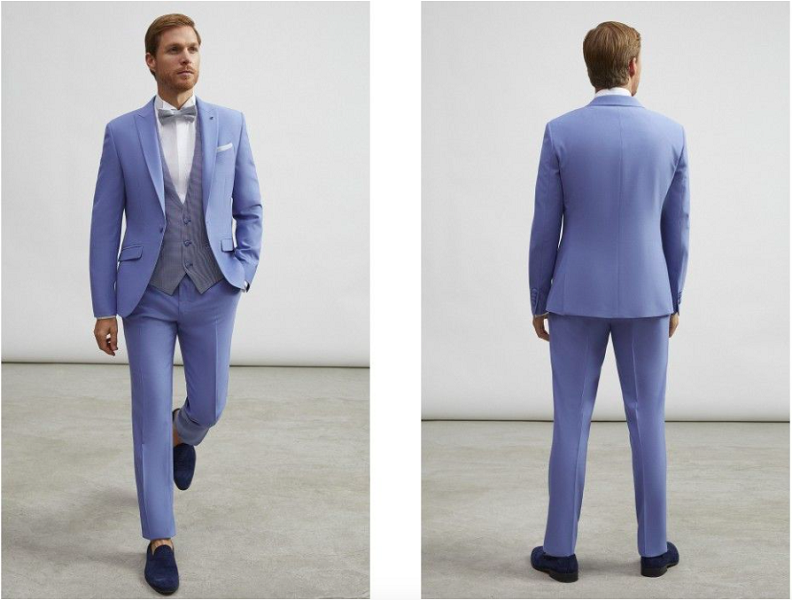 Give your wedding look an extra touch of romanticism and sophistication with this plain wedding suit in an original pastel blue colour, made of wool and polyester fabric. Its jacket with 1 button peak lapel is contrasted with a 5 button waistcoat, bow tie and handkerchief. Pure inspiration, perfect for outdoor weddings.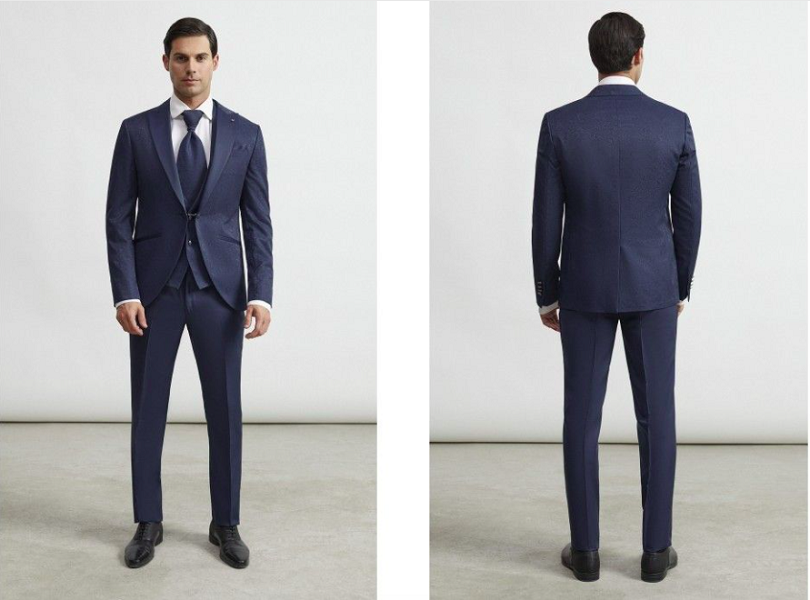 This enigmatic groom's suit made in an elegant blue brocade fabric, will be a sure hit. Its jacket with 1 button peak lapel is contrasted with a 2-button waistcoat, tie and handkerchief. A classic created to make you fall in love.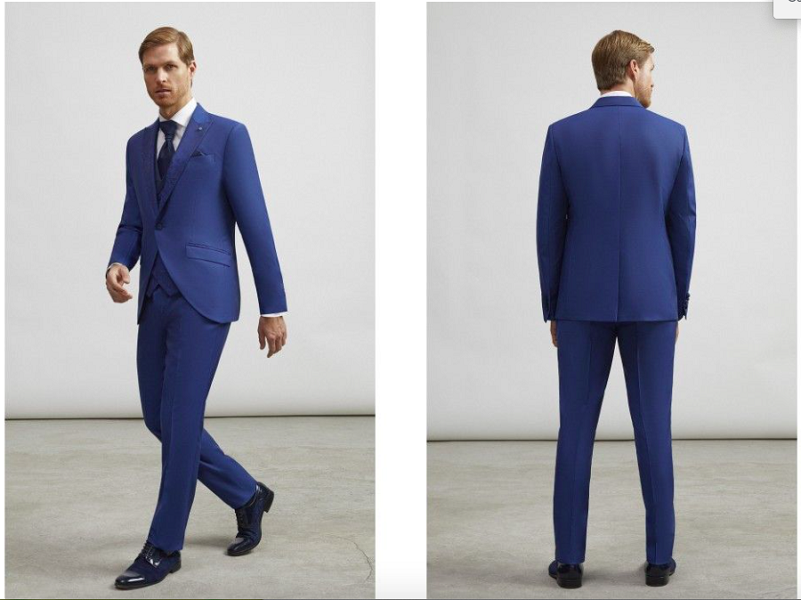 Break away from conventional navy blue and surprise everyone with this vibrant yet understated wool and polyester suit. Its jacket with 1 button peak lapel is contrasted with a double-breasted waistcoat with woven back and 4x4 buttons, tie and handkerchief.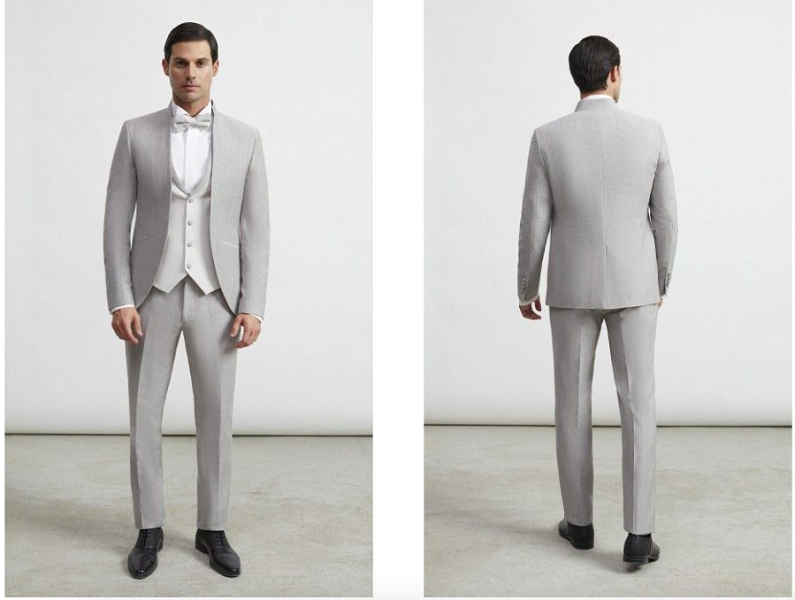 Opt for a plain beige groom's suit like this design in cotton and wool fabric. Its buttonless mao collar jacket contrasts with a 4-button waistcoat and bow tie. Purity and simplicity for an authentic and exclusive look. Do you dare?
Search, compare and enjoy the moment, but we recommend that you don't get overwhelmed trying on hundreds of designs. Trust in a specialised brand that gives you maximum confidence and let your instinct and everything that the suit evokes when you wear it guide you. Ready to shine?