Today we tell you a love story...
PROTAGONISTS
Fabio Mancini, declared one of the 50 most beautiful models in the world, works for the most important Italian and international brands in the luxury sector.
Roberta Cardenio, an Italian top model, appears on important campaigns and on the catwalks of the best known and most successful international designers.
THE STORY
Fabio and Roberta are the interpreters of our history. The wedding day has arrived, everything is ready, a beautiful location in Milan, decorated with flowers, candles and an elegant mise en place. The bride and groom have arrived and are waiting for their guests. Even the balcony and the flower garden are furnished for hospitality.
1. Here are the newlyweds who, before the guests arrive, check that everything is perfect.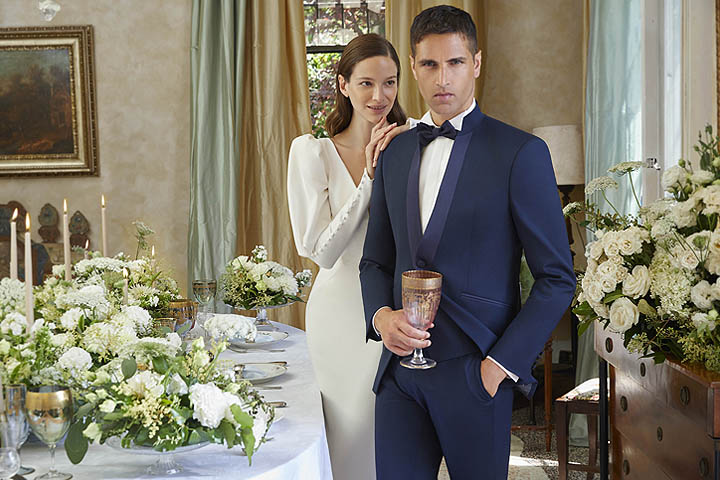 For Fabio a suit with a twill blue one-button jacket, with shiny lapels in tone with the bow tie ľ see the look. For Roberta a very simple but elegant outfit. mermaid line, neckline that highlights the dÚcolletÚ and long Elizabethan sleeves. (Pronovias)
2. The two wedding witnesses toast to this happy union. For both of us or them?, midnight blue half tight? with silver waistcoat and tie. The ultimate in true elegance for a ceremony.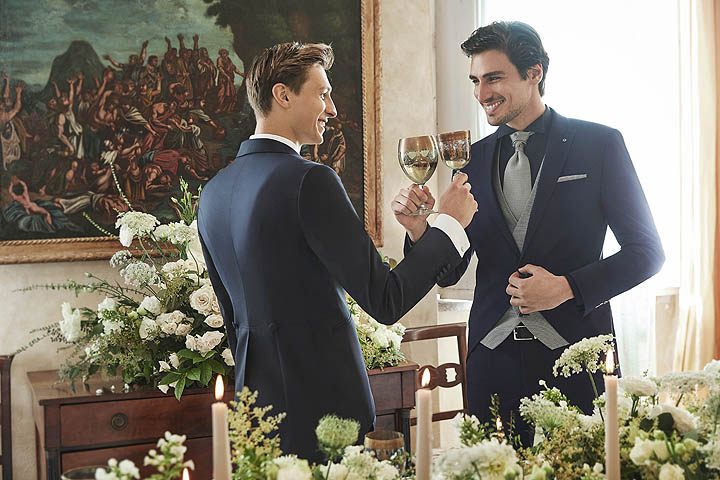 3. The two newlyweds enjoy a moment of relaxation in the shade of the gazebo set up in the garden and adorned with many pastel colored flowers.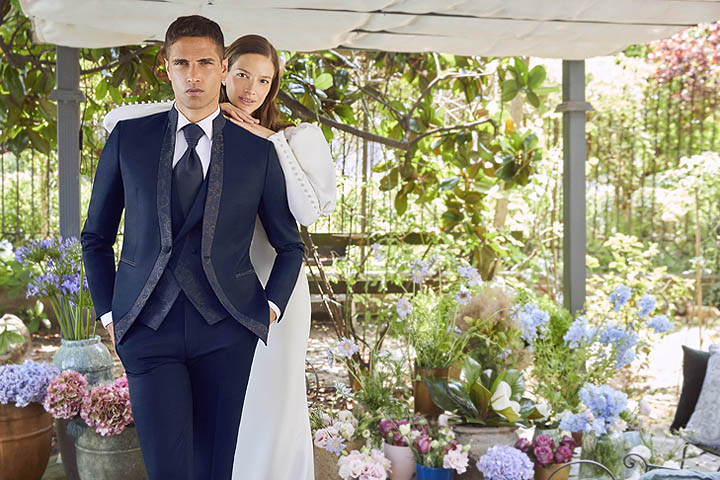 For him a three-piece suit, consisting of jacket and trousers of the same fabric and color with gilet and lapels in floral damask with golden designs. Tie in the same tone as the suit. Modern and elegant, it is the most popular choice for the spouses, because they too do not want to go unnoticed on the wedding day and increasingly look for details that make their outfit unique. For her, the classic white dress with a long row of buttons on the sleeves. (Pronovias)